7. Milling area cleaning
Use this window when you clean the machine. You can use it to perform operations such as moving the rotary axis unit and the spindle. Hovering the mouse pointer over the menu items switches the VPanel illustration, allowing you to check the cleaning location.
* The following image is an example. The displayed menu will vary depending on the model used.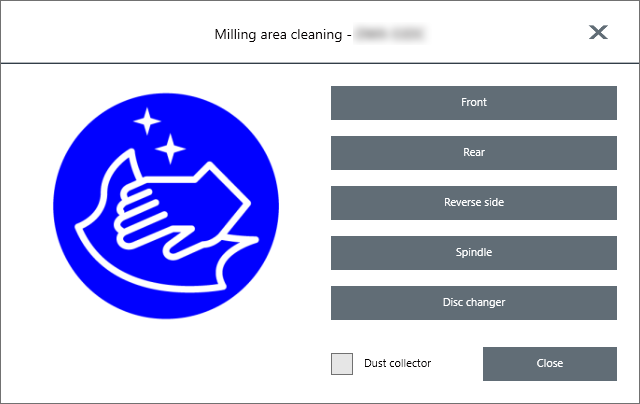 Front

Moves the rotary axis unit to the front. Use this function when cleaning the rotary axis unit.

Rear

Moves the rotary axis unit to the back. Use this function when cleaning the back of the milling area.

Reverse side

Turns the clamp over. Use this function when cleaning the back side of the clamp.

Spindle

Moves the spindle unit to a location where it is visible. Use this function when cleaning around the spindle unit.

Disc changer

Lowers the disc changer. Use this function when cleaning the adapter stocker or barcode sensor.
The text on the button may be

Barcode sensor

depending on the model used.

Dust collector

Turns the dust collector ON/OFF.
(For dust collectors with a linking function and connected to the expansion port with a linking cable.)

For details on the dust collector, refer to the Setup Guide of the model you are using.

DWX-53DC Setup Guide